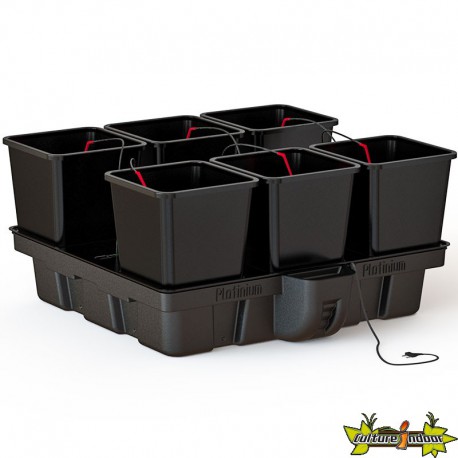 Platinium Hydrostar 100 Sistemi
Çmim: 279 €
PLATINIUM HYDROSTAR 100 është sistem hidroponik komplet. Është i mirë për fillestar por gjithashtu edhe për profesionista. Përmban 6 saksija të mdhaja prej 25L.
Dimenzione 100 x 99 cm.
Instalimi në 5 minuta.
For insiders beginners. Simple, efficient and elegant.
100% a modular system on the basis of hydrostone. The only difference: 6 pots of 33.5 x 33.5 x 30 cm (25 liters) allow to grow your plants in separate pots. These pots are filled with clay pebbles. The integrated irrigation system distributes nutrient solution through clay pebbles. This system includes an easy access to the tank comprising a removable cover and a scale to quickly visualize the nutrient solution level.
A simple and very efficient system. The system includes a reservoir 85 to 90 liters. XtraPump pump 1100 L / h 1 year warranty and irrigation bag included.
Dimensions: 100 x 99 cm. Installation in 3 minutes. Guide included in the parts bag. A real quality ABS plastic 100% food team in full, the new 2012 Range PLATINUM Hydroponics. A COLLABORATION FRANCO-CANDIENNE: Canadian manufactured and developed in France.
HydroStar 100 Platinum provides significant modularity: the enormous advantage of adapting to the different seasons. The hot days, can work with clay pebbles that protect the roots against mold potential. And move into high gear with the Aero DP (changing the pump for 3,000 L / h and pegs by rotating sprayers 360) once to cool off.
This system is 100% convertible: you can easily adjust in 4 different systems, hydro or aero versions to choose from. A global innovation, the concept "Modular" means the HydroStar Platinum can be transformed into Platinium aerostar 6, in Platinium aerotop 6 or Platinium hydrostone 100. Platinium HydroStar 100 Big Pots in 6 pots of 25 liters.